Colors and Letters, with Triona Farrell and Hassan Otsmane-Elhaou
2 years ago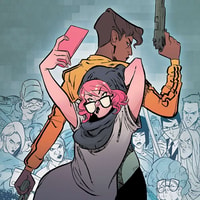 On this week's show, Matt is joined by colorist and illustrator Triona Farrell (Crowded, West Coast Avengers) and writer and letterer Hassan Otsmane-Elhaou to discuss the importance of colors and letters in comic books. Triona's book choice is Crowded by Chris Sebela, Ro Stein, Ted Brandt, and Triona Farrell. Hass's book choice is Criminal by Ed Brubaker, Sean Phillips, and Jacob Phillips.
Support That's The Issue by donating to the tip jar: https://tips.pinecast.com/jar/thatstheissue
Find out more on the That's The Issue website.