Formative Comic Book Memories, with Claire Napier and Al Kennedy
2 years ago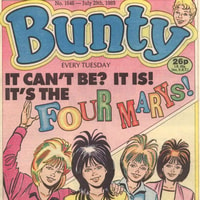 On this episode, I'm joined by Claire Napier (Women Write About Comics, Comics MNT, Shelfdust) and Al Kennedy (House to Astonish podcast) to talk about the comics they loved as children. For Al, it's Chris Claremont and Jim Lee's "X-Men" #2, and for Claire, it's the British comics magazine "Bunty."
Support That's The Issue by donating to the tip jar: https://tips.pinecast.com/jar/thatstheissue
Find out more on the That's The Issue website.